Nature goes through the cycle of four seasons, spring, summer, autumn and winter, and the root of our lives also goes through growth, reproduction, aging and destruction accordingly. Health and well-being can only be achieved by respecting this natural law and aligning with the universal order. In other words, we need to remain centered in spirit, adapt to the changing seasonal and yearly microcosmic influences, and nourish oneself preventively and regularly. This is the way to a long and happy life.

The Art of Life Through The Seasons

SPRING
The months of the spring season bring about the revitalization of all things in nature. It is the ideal time for the cleaning and rejuvenation of overall health and well-being. As spring is the season in which universal energy begins anew and rejuvenates, we should attempt to complement directly by being open and unsuppressed, both physically and emotionally.

Spring is the season of the liver, and indulgences in frustration, depression, sadness and negative emotions can injure the liver. Exercise more frequently and wear loose-fitting clothing would be good at this time. Do stretching exercises to loosen up tendons and muscles. It is also good to develop equanimity and calmness to ensure the liver functions smoothly.


Liver Care:
1. Pour a cap of
Forgiveness Bath & Massage Oil
into bath tub and bath for 20 minutes
2.
After bath or shower at night, preferably between 9pm and 10pm, put on some "flowing" or "water-like" relaxation music, rub some Forgiveness Bath & Massage Oil on hands and gently massage liver area with clock-wise, circular motion from inside out.
To enhance the effect, rub some Forgiveness Bath & Massage Oil on the palms, starting from the armpits, and slowly massage down to the crotch (as shown on image on the right), repeat it for 20 minutes, imagining that there is a clear and cool waterfall flowing down from the chest to extinguish the burning flames and nourish the liver.
Food Recommendations:
Eat more wheat and grains, such as oatmeal, rice, noodles, beans, etc. Eat sweets more and sour food less.
---
SUMMER
In the months of summer, there is an abundance of sunshine and rain. The heavenly energy descends, and the earthly energy rises. When these energies merge there is an intimate connection between heaven and earth, resulting mature of plants and abundance of flowers and fruits.

In this season, we should refrain from anger and stay physically active to keep skin breathing and to prevent the Qi from stagnating. It is important to be happy and easygoing and not hold grudges, so that the energy can flow freely and communicate between the external and internal.

The summer season is for the heart, also encompasses late summer, which corresponds to the spleen. Keeping the heart fire down and keeping stomach warm are important for summer. Liquid type of food such as soup and porridge are generally good in summer, as stomach is cold in summer time and is tougher to digest food.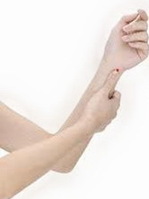 Heart Care
1. Simply clap your hands for 10 minutes everyday, in the morning and/or after nap and/or between 7 pm and 9 pm, facing south for the best results.
2. If you have hard time falling asleep, lay on the bed when you are ready to sleep, rub a few drops of
Sympathy Massage & Bath Oil
on the outer side of your wrist and massage with thumb (as shown on image). While massaging, take a deep inhale slowly, and imagine the energy flowing from top of the head to your entire body. Then exhale and imagine all wandering thoughts coming out at the massaging point.
Stomach/Spleen Care
1. Take a hot foot bath, for about 20 minutes, or until you sweat slightly.
2. After foot bath, rub some
Sympathy Bath & Massage Oil
on the bottom of your feet, curl your fingers and use finger joints to scratch the sole of foot for 15 minutes each foot.
3. Before sleep, lay on the bed, rub some
Sympathy Bath & Massage Oil
on hand, massage stomach area in a circulate spiral motion clock-wise from inside out.
Food Recommendation
Eat more glutinous millet and liquids. Light diets such as vegetables and fruits are generally good in this season. Avoid spicy and heavy food.
---
AUTUMN
In the months of autumn, all things in nature reach their full maturity. The grains ripen and harvesting occurs. The weather cools and the wind begins to stir. Just as the weather in autumn turns harsh, so does the emotional climate. It is important to remain calm and peaceful, refraining from excess sadness so that we can make transition to winter smoothly. This is the time to gather our spirit and energy, be more focused, and not allow desires to run wild.
Autumn is the season for the lungs. We should keep our lungs energy full, clean, and quiet. Practicing breathing exercises can be very helpful. Refraining from grief, the emotion of the lung, is also essential.
Lung Care
1. Boil half pound of ginger with a large pot of water. Put aside one bowl of the ginger water. With the remaining ginger water in the pot, take a foot bath for 30 minutes. Drink the bowl of ginger water that has been set aside in the meantime. You may sweat a lot, which is good, and allow yourself to cool down naturally.
2. If you sneeze often or have a runny nose, try putting some
Harmony Bath & Massage Oil
on your nose, and rub with the index fingers and middle fingers of both hands together. Massage your nose 100 times, until it's red and warm.
3. Rub some
Harmony Bath & Massage Oil
on your chest area with circulate motion in the morning, inhale deeply, and hold your breath for one minute or as long as you can. Then exhale from the mouth imagining clear water stream cleaning up all the dirty particles out of your lungs.
Food Recommendations
Sour and moisturizing fruits and vegetables are generally great in the fall.
Winter
During winter months, all things in nature wither, hide, return home, and enter a resting period. This is the time we need to conserve our energy, particularly our Yang energy. Stay quiet and subdued, as if keeping a happy secret. Stay warm, avoid the cold, keep the skin covered and avoid sweating.
Winter is the season for the kidneys, which is also considered the root organs of the human body. Winter is dominated by storage of energy, therefore, conservation and restfulness are keys for this season.
Kidney Care
1. After shower or hot bath, rub your hands to warm up, put some
Courage Bath & Massage Oil
on hand, and massage lower back in downward motion for 15 minutes. Start from the "Gate of Life" acupuncture point, located on the back at the same height as the belly button, down to the top of the hip area.
2. After massage, wrap the wrist area and do a hot compress for 30 minutes.
Food Recommendations
Light and warm food is good for winter. More protein, vitamin, fiber and less sugar, fat, and salt. Some light rice wine will be very helpful in winter also.